Post by puppet on Jun 11, 2015 6:33:41 GMT -5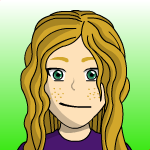 After that we watched some online demonstration speeches and critiqued them. At the end of class the teacher informed us we would be doing another impromptu speech. She let us choose a slip of paper with two topics on it and we could choose one to talk about. The universe must have been smiling on me because the paper I chose had two topics I felt I could work with. I ended up choosing "You are a mad scientist - tell us about your latest invention." The nice thing about that topic for me is that I could use my acting skills and become a different person for a minute or two. I think the class liked it, they laughed a little, and I was able to bring out parts of my personality that are usually only seen by the bathroom mirror. Plus I managed to fit all the criteria the teacher wanted into the speech. Her only comment at the end was that the class was learning so much more about me since I'm usually so quiet, and something about being on stage/theater (the nerves were flooding back as I walked back to my chair so I can't quite remember what she said, but I know it was positive). Yay!
28 hours down, 18 to go.
Even though I know it must be really hard for you, the more you tell us about it the more I feel like this has been a good experience for you.
It's really great. I would have loved to see your acting. ^^
Great job! :-)