Post by Sexy Spork #37 on Jun 6, 2017 10:20:36 GMT -5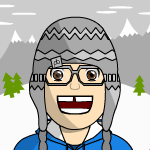 Best night of my life. Absolutely brilliant.
There were flames everywhere, an Aztec set, 10 story giant heads, a puppet walking around on stage doing battle with the band - having his heart ripped out and burst over the audience - oh, boy, they know how to put on a show...
Burnt and deaf. Great night.
It's been a few weeks, has your hearing returned? You sure know how to go out and have the best fun. Also how are you settling in ....glasses free?
It's been so long I can't quite recall if I always had a constant ringing in my ears...
It's so weird not wearing my glasses. The lights are still absolutely blinding me, especially car headlights, but I can see. Not 100%, 20/20, but I don't think it's too far off. I'll know more on Friday, my next check-up and my first since the surgery. Fingers crossed, all will be swell. I haven't had a migraine since the surgery, too, and I normally get 20-30 of them a year. I mean, I've already had 12 this year before the surgery, but this is remarkable.
You have your ups and downs. Good days and bad days. Some days you struggle to see text on a screen far away, on others, everything's fine. That said, they did say it would be a five month process and we're only a month in. You get used to it, though. The blinding lights have become a new normal. They have reshaped my eyeballs, effectively, so it's all about getting used to being able to see properly for the first time in over a decade. I'm amazed just how different things look. My prescription for my last pair of glasses wasn't strong enough to give me 20/20 because my eyes wouldn't have been able to cope, so it's a bit weird 're-learning' how to see and getting used to what things should look like.
It does sound strange, but my favourite part of all this is walking in the rain. Not worrying about cleaning my glasses for hours on end when I get home. Not worrying about not being able to see because of the waterfalls flowing down my lenses. Just enjoying the rain. Which is very British, I'll admit...
It's scary but exciting. I've coped for 17 days on my own since the folks are away, and will be away for another couple, and I haven't had too many accidents. Couple small fires, but when I'm alone, that always happens.
Just hope they don't wonder why the oven gloves look brand new...

27 next month. Best birthday present I could've asked for. I never spend money on myself...